Creating a Positive Future for our Young People and Students
J
For almost 20 years, the Mobile Team Challenge experiential learning equipment and CPD accredited personal development workshops have been adopted by many hundreds of youth organisations, schools, colleges and universities worldwide to create a positive and lasting change in the lives of the children and young people they support. Now, more than four hundred organisations worldwide look to the Mobile Team Challenge solution to provide them with powerful on-site activity and development programmes to create a positive future for their young people. One of the keys to the success, effectiveness and widespread use of the MTC approach is it's power to engage, challenge and educate in a 100% interactive way. Used by all agencies involved with youth and community development and education it provides a unique and widely utilised resource. This includes Schools, Youth Offending Teams, Education and/or Social Services departments, Positive Futures projects, Police Forces, Military Outreach programmes, Rehabilitation Centres, Connexions Partnerships, Correctional Centres, Youth Justice Organisations, Health Authority, Local Authority, Probation, Youth Services, and the voluntary sector.
"Behaviour-Changing Games delivering Game-Changing Behaviour in Individuals, Teams and Organisations"
MTC's Kits and Concepts are also being used across 40 Prisons and Young Offender Institutes to deliver Behaviour-Changing Games which create Game-Changing Behaviour in individuals, teams and organisations. From working with PRU'S with those at risk of offending or with Prisons and YOT's with those who have offended, Case Studies prove MTC's outstanding results in totally eliminating re-offending in a re-settlement group within a Prison and Home Office Sponsored projects working with Street Gangs, Hate Crimes and Knife Crimes across the UK. Whether the Group are looking to develop their Social Skills, such as; Respect, Self-Awareness, Other Awareness, Empathy, Self Confidence or Self Belief etc or are preparing for resettlement, MTC's principles and concepts are making a huge impact.
The Home Office have provided funding applications for any Group or Organisation who develop programmes who can positively impact Hate Crimes, 'County-Lines Projects', Street and Gang Knife Crimes. MTC programmes are eligible for 100% funding in most situations and we have several joint projects where we are working with groups in partnership with the Home Office where lasting, behavioural and attitudinal change is making incredible impact in individuals and communities.
The 7 Steps of Behavioural and Attitudinal Change Community Projects
Contact us today to see if your Community Project is eligible for Home Office funding or to enquire about a FREE, in-house, demonstration of these life-changing and life-saving concepts.
Life Changing Training for Young People
Click here to download the Mobile Team Challenge – Life Changing Training for Young People PDF
Click here to see a Video Clip of  the Mobile Team Challenge activities in action
Experiential Learning Interventions in Schools, Colleges and Universities
Experiential Learning activities have been proven to be THE most efficient learning format available (click on the links below to see the research and statistics to confirm this fact). Hundreds of schools over the UK are now integrating MTC kits and activities into their weekly curriculum.
Will Covid-19 create Adverse Child Experiences in our Young People?
Mental Health experts recently said "that they are expecting a tsunami of mental health and negative wellbeing issues in our Young People due to the Covid-19 pandemic".
Contact us to hear about how our Covid-Secure Experiential Learning Sessions are bringing Students'; confidence instead of anxiety,  hope instead of hopelessness, positivity instead of negativity, pro-activity instead of re-activity… even during a pandemic.
Experiential Learning Interventions
Last year, Ofsted were on records as saying "…Teachers are delivering boring lessons…!" whilst that is a very generic criticism, we know from our Schools Clients that Ofsted really like the experiential learning techniques which MTC deliver – "if a school has invested in experiential learning techniques, it demonstrates to us that that school REALLY DOES have the Pupils / Students development at heart".  
Here a some of the areas where we are seeing Pupil / Student Development:

Click here to download our offering of Award Winning Experiential Interventions for your School, College or University
Click here for an overview of Experiential Learning in Education to share with your Governors / Teachers / Parents
Click Here to visit our page on the efficiency and effectiveness of Experiential Learning as a teaching format
If you still need convincing…call us today  on 0844 745 2120 or click below and arrange a FREE Demo at your School. All you need to is provide 10 willing volunteers and we will deliver a learning development experience of a lifetime.
Delivering professional Young People Interventions and Youth Development Sessions 
If you are responsible for young people interventions, be it, community groups / gangs or be it development of Cadets or Youth Development – we have the kits, concepts and courses to equip you to deliver a super-professional session.
Military and Blue Light Organisations deliver excellent outreach programmes and MTC have worked with them both. Within Fire and Rescue organisations, they are working on the following projects :
Fire Setters / Fire Stoppers
Reducing Arson
Reducing Hoax Calls
Developing Fire Cadets + Princes Trust delegates
Reducing Anti Social Behaviour in your County
Working with Street Gangs
Providing Life Skills for Young People
Delivering Projects such as Phoenix or Crime & Consequences Programmes
Providing Safety Advice
Increasing Hope, Belief and Positivity in Young People
Developing Leadership, Team Working, Respect, Problem Solving, Self & Other Awareness, Self Esteem & Belief, Crisis Management, Emotional Intelligence concepts in Cadets and Young People (and your adult Staff)

Whether your Military Outreach or Fire & Rescue Service is working on the development of your Cadets or Princes Trust delegates or Young People Interventions and Street Gangs, MTC has significant experience and Home Office recommendations in the role as specialists in creating "Winning Behaviours and Attitudes" in young people. 
Behaviour-Changing Games delivering Game-Changing Behaviour

After months of home-schooling, treat your pupils and students to a covid-safe, experiential and accelerated learning experience in your School Hall or Playground.
Have you missed out on your Residential Adventure Trips this year due to Covid?
Let us bring the adventure activities TO YOU instead
A 3-Hour Experiential Learning Session in your School Hall or Playground from £350.00 + VAT per Group
                                                  For further information click below
To book your motivational School Hall or Playground Experiential / Accelerated Learning Experience
Or for details of our Free Demo offer
Harvard University Research has proven that the development of Emotional Intelligence in Young People has a significant impact in; Well-Being, Positive Mental Health and Stress Resilience, Leadership Skills Development, Self & Other Awareness, Cognisant Decision Making & Problem Solving, Social Skills and Self Confidence, Self Esteem, Positive Mental Attitudes and increased Employability Skills.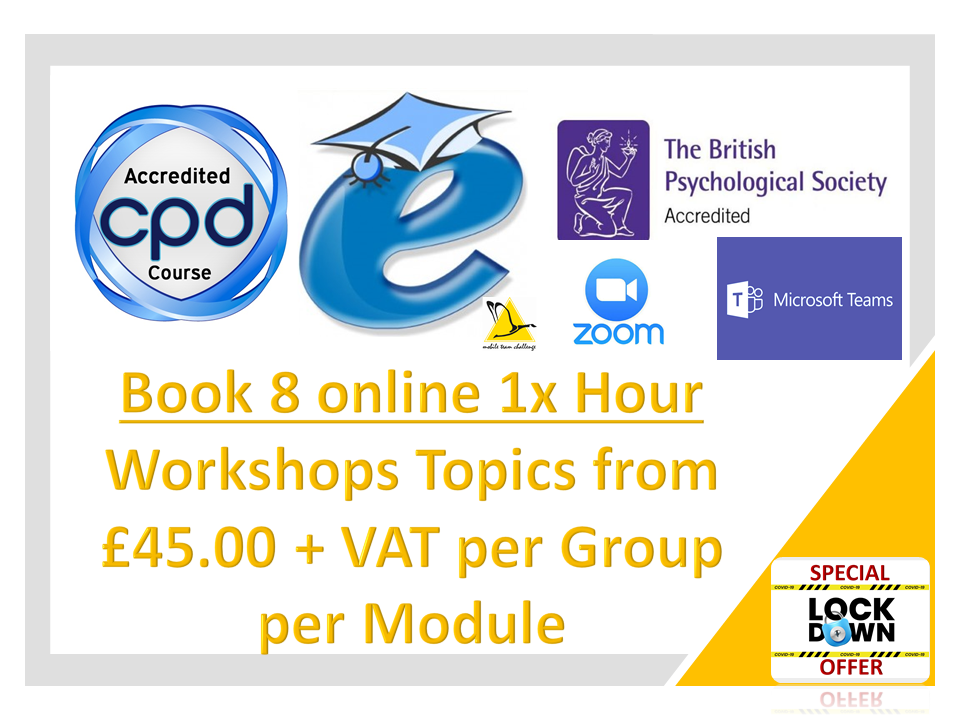 For a Short Video Overview of this workshop…

Testimonials from Spa Academy Teachers
"I used the large play mats and did a challenge of them getting themselves across the lava – a game called Magic Pieces… this enabled me to facilitate the game, enable them to see that they could work as a team rather that against each other and we reflected at the end on what they're going to change to make things better and they understood for themselves. Every child when home feeling successful, happy and friends again."
"I honestly thought that the training we had last week, over those first two days, was completely fantastic and outweighed many of the behaviour training sessions I have ever had during my career.  The way he talked to every one of us in that room was wonderful and inspired each and every one of us no matter what our backgrounds, current situations or learning styles.  Within our staff unit we have every 'hat' style and he was able to talk to us all as we needed to hear the message – just amazing.  I came out of the training so inspired and ready to go." 
"I absolutely can see the benefits of all the training we had and I was very pleased today to have been able to put the 'games' to good use!  It was a great learning session coming out of disrespect, arguments and cattiness in the children.  I have seen some other situations around school today where these 'games' could have worked for people so please, please be confident to make good use of what we were taught as it really does work!!  😊 "
Developing our Students' Well-Being
"When Academic Intelligence meets Emotional Intelligence"
This CPD Accredited 8 hour workshop is a "must attend" workshop or all Students who are wanting to embrace the Student-Life.
Workshop Objectives:
Equipping Students for the University Life

Developing Inter and Intra- Personal Skills

Increasing their Employability

Encouraging Pro-Activity

Preparing your Students for the Workplace

Learning how to use tools and models to career plan

Learning professional communication skills

Increasing self and other awareness

Understanding "People Types"

Developing their Emotional Intelligence

Applying 'The 7 Habits of Successful Students' to their lives

Building their Stress-Resilience – BEYOND Mindfulness and promoting Wellbeing
First off, everything we do at MTC is founded on facilitated activity-based learning, which is proving extremely effective in engaging students. There are two dynamics to the activity element that work well with this generation, the first is the simple principle of "I see, I know" versus  "I do, I understand" (which works for all ages) and the second is the disproportionate psychological benefit of the gamification of learning to the generation bought up with smart phones and social media. When well facilitated there are much deeper and potentially uncomfortable lessons and truths can be bought home in play environment because the brain and emotions are subconsciously in a state that is more open to learning through failure and competition.
To get a bit more technical, all the facilitation and coaching we do in framed in the Appreciative Inquiry model pioneered by David Cooperrider. This
approach makes real sense to millennials, looking as it does to create group engagement with change towards a group owned objective without the need for externally imposed coercion and incentives.
 A.I is of course a double edged sword, because corporate strategies are very often imposed and enforced in ways that undermine the buy in and creativity bubbling upwards. In an organisation it is important that the psychological roots of A.I are understood and embodied if you want to enjoy the fruits. With our students, though, our focus is to simply teach leadership that understands the dynamics from the start and so does it naturally as they are given future responsibility.
 So the work we are doing with students has now been divided into three threads
 Accredited Facilitator Training: This is for staff and students who have been involved with a 'Student Team' for more than one year. This training is run for the smallest group but is useful to highlight because it is a vital piece in an organisation that wants to embody a more appreciative inquiry approach in its culture. Many University Volunteering Teams are utilising these skills on their 'pastoral role' with freshers.
 Leadership Development and Teamwork: This is the mainstay of our accredited training. It covers basic best practice business behaviour, things like Stephen Covey's seven habits, De Bono's communication hats, Personality types, Emotional Intelligence etc. But the material is covered at a heart level not just a head level, this is where the activities and facilitation come into their own… we look at why we revert back to ineffective and how to develop more positive expectations and behaviours going. As part of this course we give the students simple tools to better manage ineffective (but often addictive) behaviours and to strengthen their effective behaviours and core strengths.
 Well-being and performing under pressure: A significant number of our student leaders have a level of pastoral responsibility, looking out for the well-being and mental health of others in their halls of residence or on their courses. These students are given more deliberate training in understanding wellbeing and stress, so they can help pass on tools to build the former and recognise and refer the later. We introduce them to Martin Seligman's five components of well-being, PERMA: Positive Attitude; Engagement; Relationships; Meaning; and Achievement. We also look at the psychology and physiology of stress looking at both its positive role (eustress) as well as negative (distress) and we use Heart Rate Variance technology (HeartMath) to introduce techniques for high performance under pressure.
These modular sessions with Students achieve the following:
Increase Decision Making and Problem Solving techniques
Increase the employability opportunities for all participants
Prepare the Student for the massive transition from "Student-Life" to "Work-Life"
Increase 'Self' and 'Other Awareness' through Emotional Intelligence development
Enable the Students to develop their "7 Habits of Highly Effective Students"
Equip the Students for "Performance under Pressure" – Well-being (PERMA), Mindfulness and how to build Stress Resilience
Winning Behaviours and Attitudes
Principles of Leadership and how to build high Performance Teams
Click Here When Academic Intelligence meets Emotional Intelligence – Overview to see an overview of this workshop.
You can now add to your CPD Hours by booking a ZOOM virtual Workshop – contact us for details 
Where are you on this slide? – Are you in the FEAR Zone, the LEARNING Zone or the GROWTH Zone? – Who do you want to be during and post-pandemic? Do you know that you CAN still choose your behaviour and attitude – despite the anxieties and fears of COVID-19? Increase your own well-being and emotional health by applying the principles of Positive Psychology into your life.
To visit our library of 1-to-1 Coaching Topics  – delivered by Zoom or Teams

Volunteering Students Leadership Programme – Royal Holloway University of London
MTC were commissioned in 2017 to design and deliver a CPD Accredited, modular programme for their Volunteering Students and it has been growing in popularity within the University ever since.
In 2020 47 Students committed themselves as Team and Project Leaders with RHUL during the academic year and their participation has developed their skillsets both now and for their future career pathway.
The sessions covered; Emotional Intelligence, Student Well-Being, Leadership Styles, Decision-Making, Prioritising Techniques, How to develop High Performance Teams, Inter and Intra Personal Awareness, Coaching and Mentoring Techniques, Communication Skills, Appreciative Inquiry, Social Skills, The 7 Habits of Highly Successful Students and included MTC experiential learning activities in an inspiring and dynamic programme.   
"Behaviour-Changing Games delivering Game-Changing Behaviour in Individuals, Teams and Organisations"
Testimonials
Coaching and Mentoring CPD Phase 2 student training (2019-20)
"The Coaching and Mentoring training gave us a platform not only to develop ideas as a team but also to explore how and why different approaches to leadership affect the impact on our volunteers, as well as helping us to reflect on key methods for adjusting our approaches in order to boost the productivity of our teams."
Carrie Brown, 3rd Year Music Undergraduate student and Volunteering student team leader for Holloway Notes.
 "This training has been incredibly useful in thinking about guiding other volunteers to be student leaders or to be more confident volunteers able to help run sessions. It's been a great follow-on from the CPD training by teaching us how to teach other volunteers what has been taught to us. It's been invaluable."
Alice West, 3rd Year Psychology Undergraduate student and Volunteering student project leader for Sing-Along Surrey
"This training has provided us with an incredible opportunity to improve our mentoring and leadership skills. It gave us invaluable insights on how to solve problems such as lack of commitment from volunteers or misunderstandings in the communications, as well as wider issues such as dealing with people in general, showing empathy and understanding, but raising the things that need to be raised. It has definitely had a big impact in the running of our social action projects, as well as teaching is general life skills."
Santiago Torchiaro, 3rd Year Psychology Undergraduate student and Volunteering student team leader for ESOL Tutoring Refugees
 "This training has given us a great space to network and team build between the different volunteering groups, and expanded our community identity and cooperation. It has trained us to better engage with volunteers and bring out the best of them, as well as ourselves. This has allowed us to work with volunteers as well as within our team to better communicate and resolve conflict, resulting in reduced absenses, increased volunteer retention, and improved results from our volunteer sessions. It has been invaluable training that we have all noted and appreciated."
Adam Perrett, 3rd Year Politics & International Relations and Philosophy Undergraduate student and Volunteering student project leader for ESOL Tutoring Refugees
For further info on the modular development sessions available for your Students, please contact us to discuss your specific requirements. Call us today on 0844 745 2120 or click below.
Personal Development for Traineeships and Work Experience Opportunities
Whether it be our children or our Young People whose lives have been challenged by Covid-19, the application of the principles of Emotional Intelligence and Positive Psychology can provide a healthy emotional and  wellbeing character in all ages.
If it is the equipping of our young students for examinations and career choices or creating 'work-ready' Trainees and Students for the Workplace, our wellbeing, stress resilience, emotional intelligence and positive psychology interventions can equip a Student to become "work ready" and our Coaching of the Student can be continued at their work experience employer – ensuring winning behaviours and attitudes.
Contact us today to hear about our CPD accredited Young People Personal Development programmes.

Click Here for an overview of our Employability Programme 

Increasing Employability Skills
Mobile Team Challenged have been seconded onto an All Party
Parliamentary Group Think Tank to discuss the growing concern of Young People unemployment. In the light of Covid-19, Government statistics are suggesting that "unemployment within 18-25 year old could be as high as 2 million by the end of 2021". There is also a concern over the forecast that "we are expecting a tsunami of well-being and mental health issues" as the circumstances accumulate and leave our young people facing a "perfect storm of negative influences".  The Group is hosted by MP Barry Sheerman and Chaired by Simon Kelleher, Head of Education & Skills and is tasked with creating an implementing strategy for the Chancellors' Kick Start Job Scheme .
It is becoming critical that we help mitigate these effects by developing the "employability skills" within the Young People looking for Apprenticeships and Traineeships (as per The Chancellor's KICKSTART programme) – and as SME's, Business Owners etc it is vital that we CREATE opportunities within our Organisations to offer our Young People an opportunity to take a first step on their career journey by offering them employment. Mobile Team Challenge are currently coaching Students to get them "work ready" in Colleges, Universities and DWP initiatives – and are offering on-going support and coaching for them to every employer who takes on a young person. Contact us for details.
Bridging the gap between "Student Life" and "Work Life" can be a
significant challenge to a Student entering the "commercial world". The transition from "Student Mind Set" to those required in the world of Commerce  can be immense. Whilst many Students, prior to Work Placement or Full Time Employment, will have experienced an element of 'team-working', 'shared visions and corporate goals, vision and mission statements and 'lower-case p' Politics, the immersion into a commercial world takes these to the  next level and can sometimes be over-whelming to learn how to thrive in their new cultural setting.
Our online programme is the perfect preparation for any student about to embark on work placement interviews or full time employment. The application of emotional intelligence and the social skills covered in this programme will be invaluable to the Students to support them in the transition. Through the development of Self-Awareness the Students will embark on a journey: Understanding Yourself – Understanding Others – Understanding Life / Organisation and Daniel Goleman's Emotional Intelligence concepts are key to a successful transition from 'academic to commercial'.
Click Here to see a Sample Programme – we would be happy to create a programme specifically for your students 
Click Here to see an overview of our Zoom or Teams online version of this workshop
 Universities Challenged!
How to provide "Value for Money" for your Students
The current squeeze on funding, the increase in competition, the greater demands for excellence from Students who now have a greater choice where to gain their education, revealing NSS league tables, the increasing fees – all demonstrate that the Further and Higher Education Sector has possibly never known such "extraordinary times" as those in which we are living today – confirmation then that "extraordinary measures" are required.
As Universities across the Country begin to focus more on commercial strategies as the competition increases it is vital that your University delivers Service Excellence and outstanding Student retention and satisfaction levels in order for their offering of further education to remain competitive and for the students to perceive that they have received good "Value for Money" in the face of Students fees increases.
In a competitive Higher Education Market, it is essential that any differentiator of courses offered or product is leveraged to its maximum in order to gain the advantage.
When services and products become similar – it is the excellence of the Service offered which plays a major deciding influence. But when the day arrives when every University offers Student excellence – it will be the Universities who can offer the "next level of service" who will sustain their success.
It is their experience which Students will remember and talk about to others.
 Delivering Student Experience Excellence
This Workshop focuses on how to apply Disney's culture of Service Excellence into our Student's Journeys.  It covers an in-depth analysis of every "Moment of Truth" where a Student or a Potential Student can form an opinion of your College or University based on their experience and it prepares a strategic "Analyse, Fix / Improve, Measure" process of Student-Facing activities in order to ensure Student Experience Excellence. The workshop looks at WHY? Disney has won the award for Best in Class for Customer service for over 30 years. We explore the Principles of the Magic Kingdom and take in the award winning FISH! video as we focus on Student Experience Excellence. Delegates will compete a Service Improvement Plan during the workshop. Creating a Culture of Student Experience Excellence What IF ……. Disney ran your University?
Disney has won the "Best in Class" Award for their Customer Service Principles for the last consecutive 40 years
Now these principles are delivering excellence within Further and Higher Education Establishments across the UK                                                                                                                             
Measuring your Students Experience – NSS The "bar" for Student Service Excellence and Experience is getting higher each year for Universities to achieve.
The Higher Education Funding Council for England reported that: "Students are more satisfied with their experience at UK universities or colleges than at any time in the eight years of the National Student Survey (NSS), with 86 per cent saying they are satisfied overall with their course in this year's survey."                                        
This inspirational and motivational 1 day workshop will explore: 
The 10 Things that Disney would do differently if he ran your University
The 9 Principles of Service Excellence – How does Disney "DO" Customer Service?
The 6 Keys to the "Magic Kingdom"
         The workshop will be interactive with group and experiential activities
Doing it like Disney – Universities Challenged!
Workshop Agenda
What if…we did things Differently? …and What if…Disney ran your University?!
Who are your 'Customers' and the Stakeholders of your University?

Who are your Competitors?
Experiential Activity: Paradigm Shifter – Thinking Differently about Student Service
Seeing Your University through the eyes of a Student
  "Moments of Truth"   – Jan Carlsson SAS  – We only have ONE opportunity to make a FIRST Impression on our Students…what would their first impression be?

Identifying our Competitors and our Clients / Partners

How do our

"Touchpoints"

impact our Students' "Moment of Truth"?

Seeing our University through the eyes of our Students.

Identifying areas for improvement for Student Satisfaction within our "Touchpoints"

Is our University really offering "Value for Money" to our Students? 

Self-Audit – How does our University measure up now? – Current State

Creating a Culture where Kai-Zen (Continuous Improvement) Thrives
Group Activity: Student Touch-Points – Mapping the Student Experience 
Sprinkling the "Magic Kingdom" Dust: Disney's Service Principles
The 10 Things that Disney would do differently if Disney ran your University

Disney's Award Winning' Service Principles of Service Experience Excellence

What are our Service Standards for "Student Experience Excellence?"

How do our OWN Levels of Service Excellence Stack Up??
Group Activity: A Self Audit
Creating a Culture of Innovation and Service Excellence within your University
How DO those guys do it? – Best Practice Principles of Innovation

Apple / Nike / 3M / HP / Disney / Harvard

Defining and applying the 3 ingredients of REAL Innovation into your University

Apollo 13

– Definition of Innovation – Video
Student Experience Excellence requires Functional Team Working
The 5 Dysfunctions of a Team – Working as a Functional Team for our Students
10 Lessons of Teamwork – from The Geese – Video
Applying Winning Behaviours and Attitudes to our Student Experience

DeBono's Thinking Hats – Understanding Challenging Personalities


Experiential Activity: Levitation Challenge
Identifying and Understanding Personality Types
The ABC of Managing difficult Student Behaviour

Transactional Analysis, Neuro–Linguistic Programming: Professional Communication Techniques
Experiential Activity: Navigating the Impasse
Designing the '10 out of 10′ Student Experience of Excellence at our University   
Utilising the Appreciative Inquiry and the Disney Creative Strategy to design a Student Experience of Excellence. Delegates will map the Student Journey of the Future and will identify specific 'Improvement Projects' for the delegates to be involved with and to implement post-workshop.

 
What does Student Service Experience Excellence Look Like?
The Disney Creative Strategy – designing the Perfect 10 Student Experience Excellence

Dreaming the Student Service Experience of Excellence
Group Activity: The Perfect Student Experience Excellence Outcome – Future State – using Appreciative Inquiry
The 4 Principles of Achieving the Student Excellence Experience – FISH! DVD
Choose your Attitude

Play!

Make their Day

Be There for them
The FISH video / DVD has gone on to be the best selling training video/DVD of all time. Here is an extract from the Pike Place Fish web site: "For us it means going beyond just providing outstanding service to people. It means really being present with people and relating to them as human beings. We take all our attention off ourselves to be only with them…looking for ways to serve them. We're out to discover how we can make their day. We've made a commitment to have our customers leave with the experience of having been served. They experience being known and appreciated whether they buy fish or not. And it's not good enough just to want that – it takes an unrelenting commitment. We've made it our job to make sure that experience happens for every customer."
These same FISH! Principles are now being applied to Universities and Colleges throughout the UK
Click Here for a Preview of this Award Winning Video – FISH!
 Workshop Outcomes – Delegates will:
Be inspired and motivated to shift their personal paradigm for Student Experience Excellence
Consider your University through the eyes of a Student and create an Action List of improvements
Learn the 3 vital ingredients to create a culture of innovation within your University
Learn the 10 things which they would do differently…if Disney ran their University
Explore Disney's Principles of Service Excellence and Continuous Improvement and learn how to apply them to their University
Create the "perfect Student Experience Excellence service" utilising Appreciative Inquiry Planning tools
Learn how to build and/or contribute to high performance teams within the University
Consider the relevance of breaking down silos in order to achieve Student Experience Excellence through the efficiency of Functional Teamwork
Complete a Self-Audit of their own perceived Service competencies
Explore Professional Communication Tools to enhance Student Service levels
Consider the Service Principles of FISH! – the Award Winning DVD on Service Excellence and apply them to your University
Be awarded with a CPD Certificate in Customer / Student Experience Excellence
Click here to download an overview of this inspirational workshop: Creating Student Experience Excellence.
The cost of this module is £895 + VAT for groups of up to 12 delegates. This cost includes all preparation, materials, workbooks and trainers expenses.
The above workshop is also available on-line and is delivered
over Zoom or Teams over 3 x 90 minute sessions 
Click Here to see the online Zoom format

Culture Change in Universities and Colleges
If you are looking to Change the Culture in your College or University, we'd love to talk to you.
 

Working Together
MTC understands that organisations need to work together to solve the whole problem. Throughout their educational journey and into their youth and beyond to employment in the workplace, extensive feedback from MTC users confirm that the tools we provide play an important, and in some cases, a critical role in the success of initiatives that address the following areas of concern.
Individual development and life skills
Employment prospects and social skills
Youth Offending and Re-offending (and Prevention)
School and Social Exclusion
Substance Abuse
Truancy
Homelessness
Family Problems
Poor Health
Mental Health
Emotional Well-being
Poor Academic Performance
NEET Students
Traineeships and Apprenticeships Development
Development of employability and 'work-ready' skills
Building Respect and Trust
The principles of Decision Making, Leadership and Teamwork
Increasing Self Confidence, Self Belief, Self Esteem, Self Awareness and Motivation
Creating Winning Behaviours and Attitudes with Positive Psychology
Developing and Applying Key Skills Stages 3-5
Used both inside and outside of a wide range of youth and community organisations around the world, MTC works to resolve the above issues effectively providing the following benefits.
MTC is a catalyst that gets even the most apathetic and resistant of young people to really "Engage in Learning".
It provides numerous opportunities for positive assessment, which is used constructively and deliberately to build self-confidence, self esteem and personal self-worth for young people.
It improves skills in decision-making, problem-solving, planning, assertiveness and self-control and these have been proven to reduce Youth Offending and other destructive behaviours.
It enhances thinking, personal and inter-personal skills and, unlike many sports, MTC is accessible to everyone regardless of age, physical or mental ability or skill level. It therefore provides a "level playing field" on which young people can have fun, learn and develop more positive, constructive and socially acceptable behaviours.
For further information on our Students and Young People development workshops please contact us.
The MTC Goal Reference Matrix
Many schools have purchased their own MTC experiential learning kits and our Train the Trainer programme equips the teachers and tutors to deliver highly motivational and inspirational interventions for all ages. Simply identify your preferred learning outcome for your Group, cross reference it in the matrix below and you will find several MTC experiential activities to provide you with the accelerated learning experience and desired outcome.
Alternatively our facilitators can bring MTC kits into your School, College or University and they will design a session specifically to meet your learning outcomes. 
Free on-site demonstration of MTC Experiential Learning Activities
If you would like a free, on-site demonstration of our Award-Winning kits please click FREE DEMO below. If you can provide up to 10 willing volunteers we will provide you with a learning experience of a lifetime.

Testimonials
"We had a hugely inspirational day with Mobile Team Challenge. Their use of Appreciative Enquiry to facilitate Experiential Learning was so powerful that we placed an order for four equipment packages and associated training which our Young People's Groups are significantly benefiting from ." (Sue Cook of Wolverhampton City Council)

'An awesome delivery technique which makes learning great fun – it's changed my life'.     (Moorlands College)

"I would highly recommend your equipment and training to anyone interested and would be glad to answer questions about our experience. Thank you again for your work in providing us with the tools and the knowledge to positively affect the world through the children we serve." (Brian Flemming, Drug Action Council)

"When first approached by Mobile Team Challenge, who introduced us to a complete system that could successfully address Personal, Social and Health Education (PSHE) and Citizenship, we invited them to come to Ashmole School to run a one hour demonstration with a mixed group of our pupils. Within that short period we were amazed to see that through experiential learning all the pupils developed a wide range of core competencies. Mobile Team Challenge not only covers enhanced thinking skills but we also were very pleased to see that experiential learning can be adapted to meet varying identified needs, such as communication, team building, leadership, motivation & problem solving, etc. We noticed a dramatic change in a significant number of students. Mobile Team Challenge also has the additional benefits of being able to be used in all of our classrooms as well as sports hall due to its compact nature and ease of transportability. In support MTC has also been specifically developed with full risk assessments carried out for every activity. This is enhanced by specific programming, which will enable all of our teachers to safely run each of the 100+ activities with a very simple training introduction. Like most Upper and Middle schools we also have limited budgets set aside to develop a number of specific programmes. Fortunately Mobile Team Challenge offer direct funding support through specific governmental funding schemes for 100% of the cost of Mobile Team Challenge. With this support I strongly recommend you invite MTC to your school to run a demonstration to see for yourself what I can only describe as an invaluable PSHE system for your school." (Anthony Filby Senior Teacher in charge of Pastoral Curriculum, Ashmole School, Southgate, North London)

"This programme is enjoyed by all the children from year Five through to year Nine and it is something they look forward to a great deal. We have organised adventure based programmes for the following reasons:

To help new pupils coming in to the school get to know their staff and fellow pupils.
To cover PSHE and Citizenship specifically relating to team work, communication and problem solving skills.
To organise inter class and inter year teambuilding events.
 For staff training and development programmes.
To expand the scope and the positive impact and influence that the school has within the local community.

"In all my time teaching I have never encountered such an effective programme for interactive learning as Mobile Team Challenge." (Keith Pugh, Deputy Head-Teacher, Swanage Middle School, Swanage, Dorset)

"What a great way to teach valuable life lessons – by doing enjoyable activities and then discussing how to relate the learning from them back to real life."  (Tom Johnson, Carey Counselling Centre)

         "Thanks for all your work delivering the training session. I have received fantastic feedback and I am positive that we will be able to take this forward to achieve     cultural change and increased service standards to which we are aspiring!"  (Darren Baker, Head of Projects & Compliance, University of Essex Campus Services)

"The Course today was VERY engaging and enjoyable. I am glad that I have attended this course." ( Team Leader Loughborough)

"An EXCELLENT Day – Thank You!" – (Employability and Tutorial Manager, North Hertfordshire College)