| | | | | | | | |
| --- | --- | --- | --- | --- | --- | --- | --- |
| | June 2013 | | | | | | | | | +44 (0)844 745 2120 |
What IF ... Disney ran YOUR Hospital??
A fun, but thought provoking, workshop on the Disney principles of Service Excellence. HOW has Disney won the "Best in Class" award for the last 30 years?

NOW these principles are delivering patient experience excellence across all of the Health Care Sector in the UK

WHAT can we learn from Disney that we can apply to our own Patient Care?

How to optimise efficiency in your Organisation through Service Experience Excellence

What IF... Disney ran your Hospital?? ... the 10 things you would do differently...
On-Site for ONLY £750 + VAT per Group (up to 12 people)
---
The NHS Survey says ...
In a survey of 337 NHS Chief Executives and Chairs, 100% of NHS leaders concede that the NHS is not sufficiently customer focused at present.
Of those, 65% said that a significant change in customer focus is required.
The public agrees; 93% think it is important for the NHS to pay more attention to customer service.
Areas cited for improvement include friendlier staff, easier appointment booking systems, clearer information about treatment and better bedside manner.
NHS Next Stage Review stated, High Quality Care for ALL " The skills for listening, understanding and responding to the needs of individual patients and supporting them to manage their health in a manner that is respectful of diversity and difference must, wherever possible, be incorporated into education and training programmes.&quot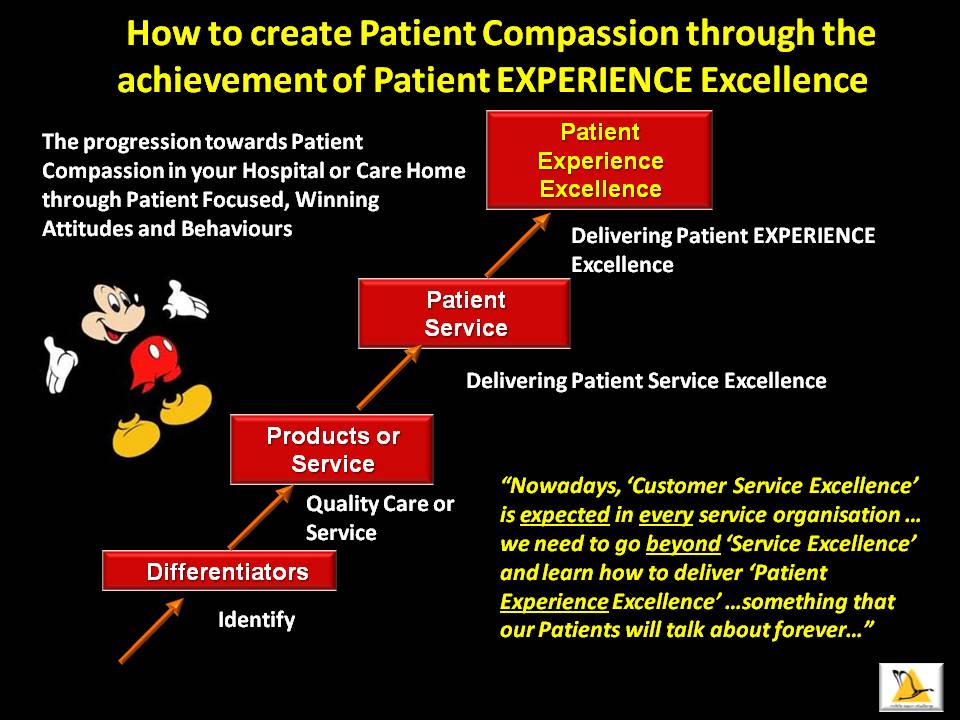 ---
Featuring the Award Winning Video - FISH!
The FISH! Principles of Customer Service EXPERIENCE Excellence

Choose Your Attitude

Play

Make Their Day

Be There For Them
---
Guaranteed FUN! ...but with some SERIOUS Learning
Seeing your Hospital THROUGH THE EYES AND VOICE OF YOUR PATIENTS

"Moments of Truth" from your PATIENT TOUCH POINTS

The 6 Keys to the Magic Kingdom - applying the DISNEY PRINCIPLES TO YOUR HOSPITAL

FISH! - The FISH! Principles of SERVICE EXCELLENCE

The 10 things you would do differently.. IF... Disney ran your Hospital

Learning from BEST PRACTICE Organisations

Exploring the developing role of EMOTIONAL INTELLIGENCE within Patient Care

Completing a "SELF AUDIT" of our own Service Standards

How to apply the 3 ingredients of INNOVATION into your Hospital

HANDLING DIFFICULT PATIENTS - Why is it that SOME Patients REALLY annoy me?!

CREATING INSPIRATIONAL SERVICE TEAMS - Developing outstanding Teamwork

Setting the Standards for Patient EXPERIENCE Excellence

Experiential Learning and GROUP BREAK OUT ACTIVITIES

CREATING A PATIENT FOCUSSED CULTURE

Communication EXCELLENCE

Seeing our COLLEAGUES AS CUSTOMERS

FUN! Experiential Learning Activities
---
Testimonials
"Thank you for the inspiring 2 day's training you did for us recently, we have noticed a difference already!"
" Dear Barry, I probably ought to be lodging a protest! Since the training course, I have had a steady stream of staff at my door. Each and every participant spontaneously felt that they ought to come individually and tell me how fantastic your course was! They felt really motivated, learnt a lot and really enjoyed the day. I can see that you may become a regular feature of the training of the department! Thank you"
"Received great feedback again – you are REALLY making an impact and it is fab"
"I AM SO MOTIVATED!! ... I hope my colleagues are too! :-)"
"Excellent course will recommend to others"
"A Life Changing Experience"
"A Terrific Day - thoroughly enjoyable and informative session!"
"Best Training EVER!!!"
"I'd give this course and 11 out of 10! … Best I've attended"
"Really enjoyed the day – thanks!"
"Thoroughly enjoyed the day!"
"Very enjoyable"
"An enjoyable and positive day"
"An excellent day – thank you"
To see MTC's Award Winning Activities in Action - click on our Facebook or YouTube links below
This workshop is a must for all employees involved in Customer engagement. Call Today for more an information pack on how Emotional Intelligence is critical to Customer Experience Excellence or click the book now button »
---
Award Winning Experiential Learning Kits to enhance the Professsionalism of your internal Facilitators and Trainers
Fired Up Engaged for Learning Kits
Leadership - 24 activities - NOW £997.00
Team Building - 63 activities - NOW £1,240.00
Team Leader - 83 activities - NOW £1,495.00
Facilitation Hardware
Standard Kit - 53 activities - NOW £5,995.00
Performance Kit - 136 activities - NOW £7,995.00
Performance Plus Kit - 289 activities - NOW £10,995.00
Conflict to Collaboration Upgrade - now includes
bio-feedback software to measure emotions, resilience, stress and conflict triggers. 40 additional activities specifically designed to create enhanced teamwork, build respect, manage conflict and diversity awareness: £4,995.00
---
Get in Touch
To find out more information about Mobile Team Challenge and what else we can do for you and your organisation, get in touch via:
Visit our Website

Join us on
Facebook
---
Copyright © 2013 MTC Europe. All Rights Reserved.
Company No. Cardiff 4583573 VAT Registration No. 803 2078 65
Mobile Team Challenge Ltd, Challenge House, PO Box 4191, Crowthorne, Berkshire RG42 9NA.