| | | | | | | | |
| --- | --- | --- | --- | --- | --- | --- | --- |
| | October 2013 | | | | | | | | | +44 (0)844 745 2120 |
The ultimate team building event - in house!
From the company who SPECIALISE in team working events
for £795 + VAT for a group of 12 delegates for a FULL Day ...OR... for those who are TIME (and/or BUDGET) CHALLENGED! - £295 + VAT and travel expenses for HALF a Day - 3.5 hours of fun packed learning!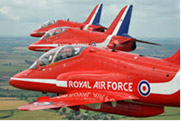 A fun and highly inspirational and motivational Team Building day utilising the Award Winning in house low ropes course from Mobile Team Challenge, the specialists in Team Building; as used by:
The Red Arrows

3,000 RAF, Army and Navy personnel

100+ Local Authorities

Vodafone, Masterfoods, B&Q, Jaguar, Land Rover, Honda, NHS, Police, Fire Service, ITV, McAfee etc

150+ Schools, Colleges and Universities...
On-Site for ONLY £795 + VAT per Group (up to 12 people)
---
Mobile Team Challenge - Experiential Learning
"...Teamwork is the fuel that allows common people to achieve uncommon results..."
Delegates only remember 10% of what they hear in a conventional training session but they retain 90% of what they experience in these revolutionary Award Winning Team Building Days.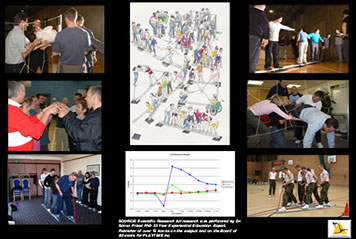 ---
Featuring the 5 DYSFUNCTIONS of A TEAM by Patrick lencioni
| | |
| --- | --- |
| How to build High Performance Teams | |
Listen to what the Red Arrows say..."Teamwork...It's all about TRUST..." Squadron Leader Graham Duffy (Red 4) - Mobile Team Challenge Team Working Excellence Workshop: RAF Cranwell
---
Guaranteed FUN! ...but with some SERIOUS Learning
What better time is there than the present to develop your team into a High Performance Team in order to take on the challenges of the current climate?
This 1 day workshop has been specifically designed:
To create Team Bonding and Team Working

To create Team Excellence and Team Spirit

To inspire and motivate individuals to "play as a Team"

To "Future Proof your Future" by Strategically Planning your Teams vision for the Year ahead

To understand the roles that people play in Teams (Belbin) – delegates will participate in a Belbin Profiling to see their preferred role in a Team environment.

To strengthen relationships within the Team

To give a deep insight into the diversity of personality types within the Team

To build trust through Honest, Open and Transparent Communications

To explore "Leadership, Followership....and Conflict!" in Teams

To build trust through Honest, Open and Transparent Communications

To identify "The 7 habits of highly effective teams" (Covey)

To enhance honesty, respect and to build trust with each other team members.

To appreciate and embrace diversity within Teams – covering Conflict Management and Resolution within Teams

To build professional rapport within the Team

To explore Effective Communication within the Team (NLP)

To create a Team Vision and Objectives (Appreciative Inquiry)

To develop an understanding of people types and how to effectively deploy the strengths and resources of the Team members for high effectiveness

To participate in state of the art Experiential Activities – make Personal and Team Development FUN!!
Myers Briggs Individual and Team Profiling is also available
---
Testimonials
"Thank you for the inspiring 2 day's training you did for us recently, we have noticed a difference already!"

"Dear Barry, I probably ought to be lodging a protest! Since the training course, I have had a steady stream of staff at my door. Each and every participant spontaneously felt that they ought to come individually and tell me how fantastic your course was! They felt really motivated, learnt a lot and really enjoyed the day. I can see that you may become a regular feature of the training of the department! Thank you"

"Received great feedback again – you are REALLY making an impact and it is fab"

"I AM SO MOTIVATED!! ... I hope my colleagues are too! :-)"

"Excellent course will recommend to others"

"A Life Changing Experience"

"A Terrific Day - thoroughly enjoyable and informative session!"

"Best Training EVER!!!"

"I'd give this course and 11 out of 10! … Best I've attended"

"Really enjoyed the day – thanks!"

"Thoroughly enjoyed the day!"

"Very enjoyable"

"An enjoyable and positive day"

"An excellent day – thank you"
To see MTC's Award Winning Activities in Action - click on our Facebook or YouTube links below
This workshop is a must for all employees involved in Teams. Call Today for more an information pack on how Emotional Intelligence is critical to Team Working Excellence or click the book now button »
---
OR ... Purchase your own MTC AWARD WINNING KIT and we will train you how to use it
Discounted Prices on ALL MTC HARDWARE until july 30th ONLY
Fired Up Engaged for Learning Kits
Leadership - 24 activities - NOW £997.00
Team Building - 63 activities - NOW £1,240.00
Team Leader - 83 activities - NOW £1,495.00
Facilitation Hardware
Standard Kit - 53 activities - NOW £5,995.00
Performance Kit - 136 activities - NOW £7,995.00
Performance Plus Kit - 289 activities - NOW £10,995.00
Conflict to Collaboration Upgrade - now includes
bio-feedback software to measure emotions, resilience, stress and conflict triggers. 40 additional activities specifically designed to create enhanced teamwork, build respect, manage conflict and diversity awareness: £4,995.00
---
Get in Touch
To find out more information about Mobile Team Challenge and what else we can do for you and your organisation, get in touch via:
Visit our Website

Join us on
Facebook